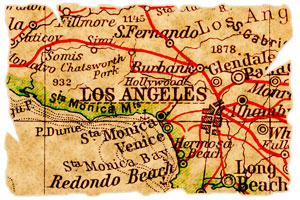 The huge metropolitan area of Los Angeles extends west from the Pacific beaches at Santa Monica north into the San Fernando Valley, east toward San Bernardino, and south to the busy port of Long Beach. The city is made up of many socioeconomically diverse neighborhood cores including ethnic neighborhoods like Chinatown and Little Tokyo, as well as the upscale Venice Beach, Malibu, and Santa Monica. Bel-Air, Beverly Hills, and Pacific Palisades offer glimpses of multi-million dollar mansions and Long Beach lies to the south of the city proper and is a major international seaport. The L.A. metropolitan area is home to residents who have immigrated from all over the world and there are more than 200 different languages spoken here.

Los Angeles is a city of contrasts. Residents and visitors can take in beautiful beaches as well as entertainment and amenities that are second to none, but must contest with smog, congestion, urban sprawl, and traffic jams that are legendary. The cost of living is very high compared to the national average, but the region enjoys good healthcare, higher education, and transportation, as well as abundant cultural opportunities and some of the best weather in the world.

This Los Angeles directory provides convenient access to a broad spectrum of enterprises that are located in Los Angeles, California. In-depth information and news about Los Angeles can be found on these regional Los Angeles Libraries and Los Angeles Newspapers pages, respectively. Visitors to Los Angeles will find this Los Angeles Tourism and Conventions website useful.
---
Copyright © 2012-2022 Zeducorp.
All rights reserved.

Interactive Maps of Los Angeles